17 - High School Musical 3: Senior Year (2008)
Starring: Zac Efron, Vanessa Hudgens, Ashley Tisdale,
Rating: 9/10
IMDB
As seniors in high school, Troy and Gabriella struggle with the idea of being separated from one another as college approaches. Along with the rest of the Wildcats, they stage a spring musical to address their experiences, hopes and fears about their future.
Before I begin this review I highly recommend that you take the 4mins to watch this...
Now take in to consideration that, unlike the previous 2 HSM installments, this entire movie is made up of set pieces with that kind of production value! The result is a movie that is pretty much the definition of sunshine and rainbows!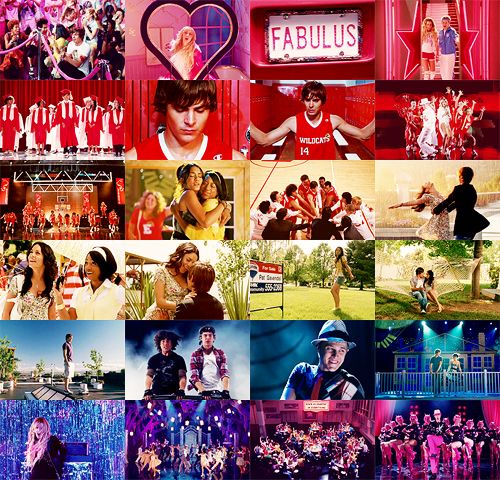 HQ
There's a whole list of excellent things about this movie - the set pieces are awesome, the visuals are bright and beautiful, the singing/dancing is all wonderful, the characters are all kind and
good
(Troy Bolton would definitely make it on to my list of fictional boyfriends!), the story is straightforward and acknowledges the everyday anxieties of school leavers in a way that never condescends to them. In the end though, I love this movie because it makes me happy. It was so obviously made with love and it's so full of joy and it just makes me smile! If you haven't seen it, I highly recommend it - leave your cynicism at the door and take it for what it is, a simple story of friendship and growing-up with colourful musical numbers!
Some of you may have noticed that my musicals posts have jumped from #7 to #17. Posting out of order makes the little OCD part of my brain tick but I was aware that I hadn't made any musicals posts in ages and I had the graphic for this one at hand! Now that I'm back in Exeter and have my desktop/Photoshop I'm planning on going back and posting mini-reviews of all the musicals I've watched in between, it'll just take a little time! You can keep an eye on what I've seen so far
here
.