I've been at home on holiday from university for the last few weeks and while it's been wonderful for me, it's been EXCELLENT for my book collection! I don't think I've walked past a book shop without going in it this week and once I'm in the shop it's almost impossible not to buy anything! Luckily, most of my buys have been bargains! Here are my most recent buys: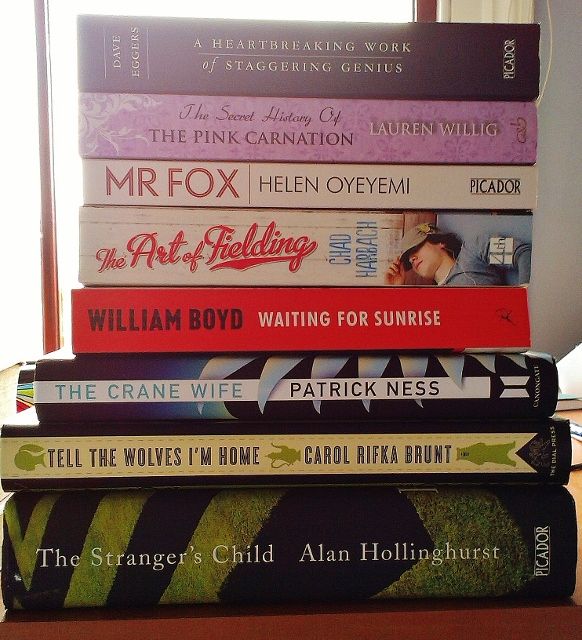 I picked up
A Heartbreaking Work of Staggering Genius
along with
Mr Fox
as part of a 2 for £5 deal at my local bookshop.
The Secret History of the Pink Carnation
,
The Art of Fielding
and
The Stranger's Child
were £2 each at a clearance shop (yes, even that massive hardback!).
Waiting For Sunrise
was a charity shop find - I've been eyeing up William Boyd novel's since I saw the TV adaptation of 'Restless' a few months ago. I originally read
Tell the Wolves I'm Home
on my Kindle and knew that I wanted to have a hard copy so I ordered the US hardback edition - I was willing to pay extra because the cover is so much prettier than the UK version!
Of all of my new buys I'm most excited about
The Crane Wife
which I pre-ordered at the beginning of the year. I have a huge amount of respect for Patrick Ness and I loved the Chaos Walking trilogy so I'm thrilled that we're getting a double dose of new Ness novels this year (his next YA book comes out in the autumn). This is the first thing I'm planning on reading once I've made it through some of my dissertation work!
Has April been a good book month for you so far? Is the beginning of spring making you buy lots too?