This is always a funny time of year for me in terms of reading. The sun comes out and there's nothing I want more than to sit outside with a good book but as I'm now in dissertation mode I spend most of the day in front of academic articles or historical texts and after hours of this 'heavy' reading I don't always feel like reading fun stuff! I wanted to make sure I posted something this week but I haven't finished anything recently (I'm currently halfway through
'Invisibility' by Andrea Cremer & David Levithan
) so we'll have to make do with a book haul!
Having bought plenty of books over the Easter vacation I wasn't planning on adding much more to my shelves in May but that hasn't worked out so well! Who am I to turn down buy one get one half price, 2 for £5 and £5 off if you spend £12 offers! It wouldn't be so bad but I've spent most of my free time in the last few weeks watching movies (
Star Trek
!
Iron Man 3
!) instead of reading so I'm adding much more to my TBR pile than I'm getting through!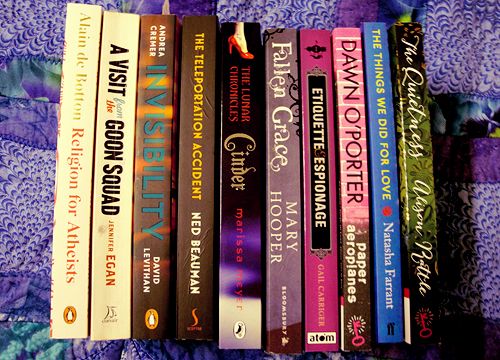 I'm looking forward to all of these but am particularly excited about getting to
The Quietness
,
The Things We Did For Love
and
The Teleportation Accident
. (The latter is definitely a contender for my favourite cover of the year!).
Have any of you acquired any particularly beautiful books this month?