It's just the most beautiful day here - the sun is out and there's enough of a breeze to make it comfortable to sit outside for hours! Everything seems at peace and it's lovely to take some time to revel in that.
Every day like this needs a soundtrack like this song by Tired Pony:
This morning I finished re-reading
The Last Summer (of You and Me)
by Ann Brashares. I'm never quite sure why this book has such a hold on me but I've taken to re-reading it every summer. It's a stand-alone about two sisters in their early 20s and their friend Paul and how their relationship changes over one summer (and the year after it) spent on Fire Island. It doesn't break any new ground in terms of story and the prose isn't stunning but it feels like summer - you can almost smell the sea and feel the sand. It's what I imagined the New Adult genre to look like before NA became synonymous with erotica. If you're looking for a quick beach/garden read think about picking this up.
Finally, in case you missed my July roundup, I strongly recommend that you go and see
Pacific Rim
. The trailer made the movie look so dark and heavy but it isn't at all. It had a real sense of fun/play and was so much funnier than I was expecting. The whole premise relies upon soldiers finding companions - they fight aliens with love and trust! THERE ARE NO WORDS FOR HOW MUCH I LOVE THAT! Plus, while the movie wouldn't pass the Bechdel test, the movie's main lady, Mako Mori, is a wonderfully complex example of feminine strength - she's a warrior but she's loving and warm and is never belittled for expressing her emotions. Just in case you need any more persuading, LOOK AT THESE FACES!!!!!!!!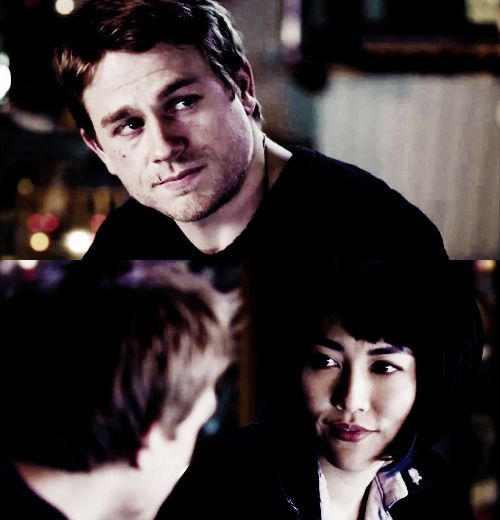 I hope you all have a lovely weekend and find plenty to be happy about!