Top Ten Tuesday is a weekly meme hosted by The Broke and the Bookish.
top ten books i was 'forced' to read
This is quite the nostalgia trip! I'm twisting the meaning of this so that it's less focussed on 'forced to read' and instead features novels that I was encouraged to read for various school/uni classes and projects.
GCSE English Literature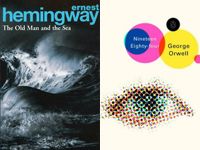 The Old Man and the Sea
by Ernest Hemingway
1984
by George Orwell
When my class revolted against having to read Hemingway (they objected to the endless pages describing hand cramp!), our teacher suggested
1984
as an alternative. That decision was quickly reversed when the class realised that
1984
was much longer and far more complex! I wasn't a particular fan of the Hemingway but as I liked history and was interested in the USSR, I really enjoyed
1984
. It was the first dystopian novel I read and I'd encourage any fans of recent dystopias to check it out.
AS/A2 Level English Lit
Heart of Darkness
by Joseph Conrad
The Bloody Chamber
by Angela Carter
Dracula
by Bram Stoker
The Handmaid's Tale
by Margaret Atwood
My experience of English Literature in the Sixth Form was very positive - I had wonderful teachers who were enthusiastic and engaged and tiny classes (in Year 13 there were only two of us!)- but the curriculum was a bit of a mixed bag! Worst of the lot was
Heart of Darkness
which I really didn't connect with (I'm not sure I ever finished it). At the other extreme however, was the A2 synoptic paper on Gothic Literature which I loved! We had to study a whole range of novels/short stories and poems for that module but the two that I really loved were
The Bloody Chamber
and
Dracula
. Also, as there were only two of us in my A2 class, when it came to choosing a novel on which to write our coursework, our teacher gave us complete freedom. I chose
The Handmaid's Tale
and wrote my essay on the various depictions of women in the novel - it was the first time I'd ever really considered gender in an academic piece of work, it has a lot to answer for!
MRes Dissertation

Rebecca
by Daphne du Maurier
Lady Chatterley's Lover
by D. H. Lawrence
A Handful of Dust
by Evelyn Waugh
The Good Soldier
by Ford Madox Ford
It's a bit of a cheat to include
Rebecca
on here as I'd read this before I studied it but I didn't fully appreciate it until I went back to study it in more detail this summer. I read all of these books this summer as part of my dissertation on adultery in interwar Britain. Of the four
Rebecca
is my favourite, followed by
The Good Soldier
which really is stylistically excellent though more than a little depressing.
A Handful of Dust
is hard to like as all of the characters are so ridiculous but Waugh's gift for razor-sharp wit is evident throughout. I'm still not sure how I feel about
Lady Chatterley
- some of the prose is beautiful but Lawrence's constant moral/philosophical interjections are tedious in their misogyny. As someone who has something of a mental block when it comes to pre-1950s literature I was pleasantly surprised by how accessible all of these were and am glad that I had this incentive to read some modern classics!