It's that time of year again when everyone tries to compile lists of the best and worst of the last 12 months. I'm pretty partial to lists and it's always interesting to see which pop culture artefacts have most influenced the people I follow around the interwebs. As you may have gathered from my book and movie review posts over the last year I'm not always very good at differentiating between the things that I
like
and things that are
good
. What I've come to realise though is that I don't really care! Life's too short to spend it apologising for things that make you happy. For the next few weeks then I'll be posting about my favourite things in 2013. Some of them are technically good and possess a certain amount of cultural merit; others just bring me joy and are therefore equally deserving of a place on the list!
I'm going to start with music today and then work through books, movies and miscellany in the run up to new year. Most of the lists will be 'top 9s' because 9 makes for neater graphics than 10!
Just to get everyone in the right frame of mind please take the next 5 minutes to dance around to this, the greatest of year-end traditions:
Don't you feel better already?!
I tend to be quite up-to-date with films and books but I'm not always so on-the-ball with music (I think I'm overwhelmed but just how much of it there is) and so one of my favourite things about December is seeing what friends and commentators I admire consider to be the best albums of the year; I always end up buying wayyyyy more music in December than any other time of year!
Each month this year I've posted a list of my favourite (upbeat/pop) tracks in my monthly roundup and you can find all of those playlists over at
8tracks
.
In terms of albums, these 9 are the new releases that I've enjoyed the most this year: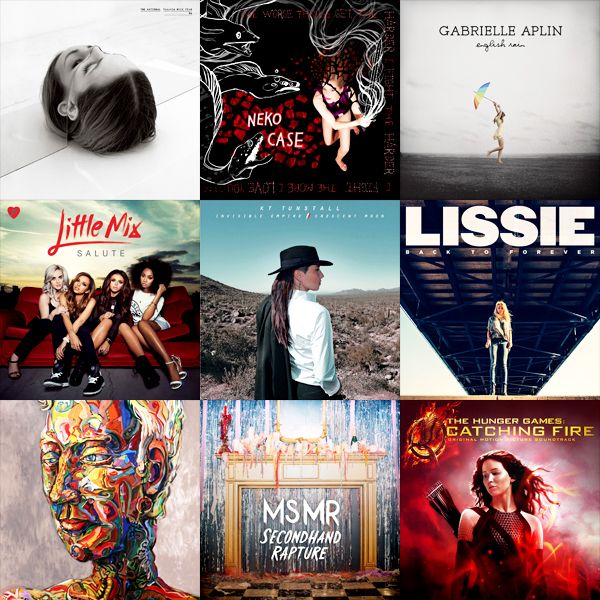 The National
- Trouble Will Find Me (Performance:
NPR Tiny Desk Concert
)
Neko Case
- The Worse Things Get, The Harder I Fight, The Harder I Fight, The More I Love You (Performance:
NPR Tiny Desk Concert
)
Gabrielle Aplin
- English Rain (Track:
Keep on Walking
)
Little Mix
- Salute (Performance:
'Move' on X Factor US
)
KT Tunstall
- Invisible Empire//Crescent Moon (Performance:
Made of Glass Live Acoustic
)
Lissie
- Back to Forever (Track:
The Habit
)
Milo Greene
- Milo Greene (Track:
Son My Son
)
MSMR
- Secondhand Rapture (Track:
Dark Doo Wop
)
The Hunger Games: Catching Fire OST
(Track:
Sia ft The Weeknd & Diplo - Electric Heart
This year has clearly been very good for female artists and pop music!
So! What do you think? Would any of these artists make it on to your favourites lists? Anything you're tempted to try out?