Quick interjection: I finally joined Bloglovin - there's a button to follow Matter Loved Dust in the sidebar!
Although I didn't have a chance to do much reading this summer that didn't stop me from buying books! I discovered Skoob books while I was in London doing research in June and that's become one of my favourite places in the city alongside Foyles and the Waterstones on Picadilly! It also hasn't helped that here in my hometown there's a small independent bookshop that runs a 2 for £5 offer all year round and also has a pretty good selection of books at half price. I should also mention that the Waterstones in Nottingham is huge and wonderful - I particularly love the hidden corner that specialises in foreign and independent publishers.
So yes, I bought books. Have a picture, vital info, linksto Goodreads and descriptions in 5 words or less.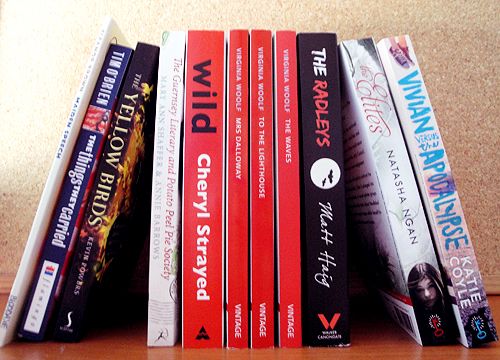 Maiden Speech - Eleanor Brown
Witty and insightful poetry.
The Things They Carried - Tim O'Brien
Highly recommended war stories.
The Guernsey Literary and Potato Peel Pie Society - Mary Ann Shaffer and Annie Barrows
Gentle fiction about WW2.
Wild: From Lost to Found on the Pacific Crest Trail - Cheryl Strayed
Supposedly inspiring memoir.
The Radleys - Matt Haig
Cheeky, British vampire YA .
The Elites - Natasha Ngan
Dystopian YA from Hot Key
Vivian Versus the Apocalypse - Katie Coyle
Apocalypse + road trip = wonderful!
I'm currently reading and loving
Vivian Versus the Apocalypse
. It's one of the best YA novels I've read this year. I have to admit that I've become something of a Hot Key Books groupie - as much as I appreciate how much effort they put in to engage with readers online and really love their design choices it ultimately comes down to the fact that they publish books that I really want to read! It does help though when they design gorgeous covers like
this!
As much as I love the covere for
Vivian...
however, the prize for the prettiest covers of my recent acquisitions has to go to these editions of Virginia Woolf's novels from Vintage Books. You can't tell from their 'classic' spines but they're BEAUTIFUL!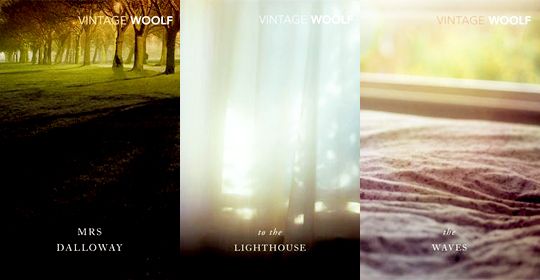 The designs are simple but very aesthetically pleasing! I need to find some form of book shelving that also serves to display their loveliness!